See what people are saying about
This and That Windchimes
I bought my set of chimes several years ago when they were being made in a self storage. I was the manager and got to know Cindy seeing her craft the chimes. I know I have had Rita for at least 10 years now and they are as good as the day I brought them home. Do not be afraid to order any one of their products.
Fast delivery and quality product
I have purchased many of the 34″ as gifts that have been very well received, but this was my first 27″ purchase. I was a bit hesitant buying something different and unknown, but the craftsmanship and sound quality was A-1 just like the 34″.
LOVE, LOVE, LOVE my windchime!!!!! The sound is so beautiful!!!!!
Very well made and beautiful sound. Thank you!
Beautiful sound, beautiful chimes. As described.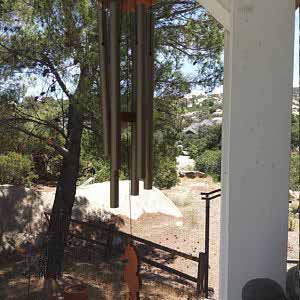 It's a high quality chime, sturdy and well built, it sounds like a singing bowl when a note is played because it has such good resonance. Because it's heavier it takes a good breeze to get it going though, but then that's what brings out the beautiful tones. I love it.
Wow! These wind chimes are so nice. I bought 2 – one for my house and one for a friend. The tones are just lovely, and you can see the time and attention that went into making them. The wood and the metal tubes are finished beautifully. They are also strung perfectly so there is no twisting or tangling when it's very windy.
Hey Cindy, I just wanted to let you know how thrilled my wife was with her "Christmas chimes". I really appreciate the prompt service and the Nicole chimes were exactly what I was looking for.
Thanks again.
I love my windchime! The sound is very beautiful. Thank you so much. I hope you and your family have a wonderful Thanksgiving.
Great sound! This is a Christmas gift. She will love it. Quick delivery, great packing.
Fast Shipment.Beautiful Wind Chime! Thanks for great quality merchandise & service!
JUST A QUICK FOLLOWUP NOTE FROM CANADA….I PURCHASED A CHIME FROM YOU 2 YEARS AGO AND IT IS STILL IN MINT CONDITION, RINGS BEAUTIFULLY EVEN GIVES ME "MARY HAD A LITTLE LAMB" ONCE IN A WHILE, YOU FOLKS ARE AWESOME THANK YOU AGAIN FOR YOUR QUALITY WORKMANSHIP!!!! ,
Been a windchime fanatic for years… Got one of the this and that chimes and OMG.. What a fantastic & well-built chime and what a soothing sound. Went back and bought another for my daughters Birthday… This one is built to last years and years If you are tired of your windchimes breaking and wearing out…. Get one of these!!!!!!
Second purchase of the 'creme de la creme' of chimes. Arrived safely.
Thanks.
THE BEST WIND CHIME YOU CAN BUY-GREAT QUALITY-THIS IS # 4 FOR ME-THANKS AGAIN-A+
Dear Cindy, Thank you VERY much for sending the windchimes so fast! They arrived the day before my daughters birthday, & were there when we arrived. We all like them very much & wish 2 thank you for EXCELLENT service! It was a pleasure doing business with you.
The item was of high quality. Very pleased. It was shipped properly. The wind chimes sound excellent
What a lovely windchime! The sound it makes is just beautiful! Thank you so much ❤ If you're looking for a wonderfully made windchime, with high-quality materials and is finely tuned – these are the ones!
Thank you for a wonderful Mother's Day present and quick shipment!
I love windchimes and have several and this one has the prettiest sound than any of them! Perfect addition to my back patio!
Wonderful craftsmanship- My three year old told me it sounds like a "beautiful lullaby." 🙂
My husband loves his birthday present. Thank you!
Just a quick note to let you know that I think your new website is really nice. We have purchased I believe 4 or 5 of your wind chimes. @ for ourselves and 2 or 3 for gifts. One Cindy you engraved the names and wedding date on the teardrop for us. I will say our oldest windchime has to be probably 10 years old and still in great shape. We still think you make the best windchime we have seen. I am glad we had found your windchimes which the first one was bought on eBay like I say probably 10 years ago. Take care and God Bless…
This is the third Windchime that we've purchased from you people. The first one was for us; the other two for gifts. Absolutely love our Windchime.
A home-run Christmas gift! The chimes are beautifully made with a sound to match.
Beautiful set of melodious chimes, very fast shipping………Thank you!
5 out of 5 stars
Nice purchase experience and my boss loved it! I appreciate you including my personal note too. Thank you!
The windchimes arrived today and they are beautiful! I am giving these as a Christmas gift so I did not remove them from the box, but I am very pleased with what I did see of them. The bronze color makes them unique. SOOO much better than the Chinese junk I could get for twice the price at a local whatnot store.
Thank you so much!
Great to deal with! Quality is second to none. I will buy again! Fast shipping
Hi Chuck and Cindy, I received Rita yesterday for my sister in law, thank you for getting that out to me. I love it! It is absolutely beautiful and I am sure she will love it too. Now I am excited to receive my Terrance. I told the gals at work about your chimes, and when I receive Terrance, I am going to bring it in to show it off, and hopefully generate some more orders for you. Thanks so much.
THE most gorgeously musical windchimes in the frickin' galaxy! THANKS!
I hung these outside my bedroom window. They are so lovely to fall asleep to and to wake up to in the middle of the night! They make the most soothing melodious sound imaginable and are BY FAR the prettiest windchimes I've ever heard. This is the third set of RITA I've purchased. The other two are for family members who commented on the beauty of these. I KNOW they will have their own to listen to! Thank you, This And That! This is a treasure for the ears, heart, and soul!
Wonderful sound, lightning speed shipping (ordered Sunday from Ohio- received Thursday from Texas) – (they shipped 3 day priority usps). Packaged very carefully with bubble wrap AND packing paper… none of the chimes were able to clank together during shipping. Overall very happy. This was a gift for my mother in law and she was ecstatic. I thought these were a little pricey at first but after comparing and reading prior reviews I believe they are comparable and being handmade I believe their superior quality. Thank you!!!
The 39″ chimes I ordered we exactly what I was looking for. They have a nice mid-tone sound and the wood is beautiful. Definitely recommend!
Very nice chimes,built with quality materials by wonderful fellow Texans!! It .are the perfect mothers day gift. The sounds are truly just like church
These came today and have an amazing sound. Would definitely order again!
I originally got the Twila about 12 years ago on Ebay. I love the sound of these chimes. A few years ago the windsail broke and Cindy replaced it for the cost of shipping. Of course, we didn't put the windsail on properly and it eventually damaged the wood. I contacted Cindy again and they are repairing my beloved chimes for me! I am thrilled with the amazing customer service. These people take care of their loyal customers and that brings more loyalty. I would never look anywhere else for well-made, beautiful windchimes!
WOW. these sound wonderful. and shipped super fast……thank you so much…
I recently ordered the "Rita" windchime with the fleur de lis windsail. I received it today and was so pleased & impressed that I just had to email you.
It's actually a mothers day gift for my grandmother. Her windchime that she had for several years & loved recently broke, so I was looking everywhere for a well made beautiful windchime. I was amazed when I opened the box today and saw this gorgeous well-made wind chime and cannot wait for her to see it.
I'm loving it so very much that I'm so anxious to get one for myself. We live close to New Orleans so the fleur de lis is very popular down here. But being that I was so incredibly satisfied, I had to email you to commend you on a job well done. Thanks so much,.
EXCELLENT TRANSACTION/BEAUTIFUL CHIMES/LIGHTNING FAST DELIVERY/HIGHLY RECOMMEND!
Hi Cindy & Family, Thank you so much for an awesome product that can be enjoyed for many years to come. We ordered Rita, Terrance, and Nicole. They hang on our covered deck and harmonize beautifully together. In fact, soon we will be ordering both smaller chimes so we'll have matching chimes across our deck. Your products are definitely on our list for future gifts to friends and family.
I received Rita and Nicole yesterday and just love them. Nicole does sound just like church bells! I can't wait to hang them up! I will recommend your site to my friends. The chimes are top quality. Have a Merry Christmas and Happy New Year!
Thank you for the very quick shipment of the wind chime, Terrance. I gave it to my mum for her 75th birthday today. She broke down in tears today when she heard it play. The quality workmanship and tone is second to none. I soon hope to return to the website to purchase one for myself.
Just wanted to drop a line and let you know that I received the wind chime today. It is absolutely gorgeous! I don't believe I have ever seen a wind chime of such fine quality and workmanship. It is going to be a gift for my husband for Christmas, so right now it is hidden, but I can tell you we will both enjoy it during the coming year. Thank you very much.
Incredible Wind Chime. Beautiful appearance and sound.
I got mine for my retirement gift! I love it, my neighbors even loved to hear them!
When want to hear from you too. Tell us about your shopping experience and your windchimes from THIS AND THAT.
We ship Monday through Friday.
We also offer a 100% satisfaction guarantee
+ see below +